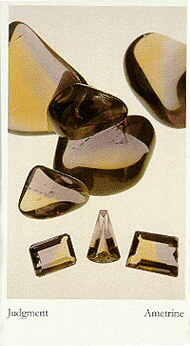 Ametrine with it's golden and violet colour stimulates feeling and creative impulses, which support mental and spiritual growth. Pent up emotions and at a standstill thinking are gently resolved. The link with God becomes more apparent.
Positive Aspects: Renewal, development, growth, life, learning, rejuvenation, achieving a goal, liberation, rebirth, law. A new period of life begins. Renewal of vital energy.
Negative Aspect: Condemnation, prejudice, delay, hesitation. Fear of death. Self-delusion and disregard of intuition.