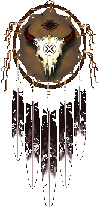 October 24 - Daily Feast
As children, we were taught that if we couldn't say something good, we
shouldn't speak at all. Children should be taught the same thing now,
and adults should remember what they learned. To keep a gentle tongue is
a constant challenge. There are so many things to speak our minds about
- though it might not be heard in the din of other voices. Wherever a
dominant personality runs on verbal destruction, there's not going to be
any peace. The Cherokee calls this chaos a e hi s dv, a pain or ache or
a headache. It keeps everyone feeling just bad enough that they can't
give their best. Where there is hassle and harassment, there can be no
constructive work. There will be nothing achieved without a gentle
tongue.
~ We took an oath not to do any wrong to each other or to scheme against
each other.~
GERONIMO